Visual display of files DXF
Development Visual BASIC
This program makes it possible to view CAD files with format DXF. The starting code is not mine but I found it on an English site which I tried to enrich.
Links on the source code of Dave Andrews
Links on another source code of Dave Andrews integrating a portion of code to read again dxf with management of the splines

---

Source file and executable visudxf.zip (29 KB)

File executable and installation of another version 0.01 (2.2 MB)

Autocad documentation on format DXF version Autocad 2000 (in English) (675 KB)

Documentation Autocad DXF version Autocad 2004 with format pdf (in English) (1.5 MB)

Version 2000-83 of VoloviewExpress (15.9 MB)
---
The program
This program makes it possible to visualize files 2d with format DXF. All the types of entities are not managed. For the moment there is no second reading of Splines. The program makes it possible to post the entities according to Bush-hammering it membership (Only one to bush-hammer at the same time). It is enough to click on a file DXF to visualize it in the viewer.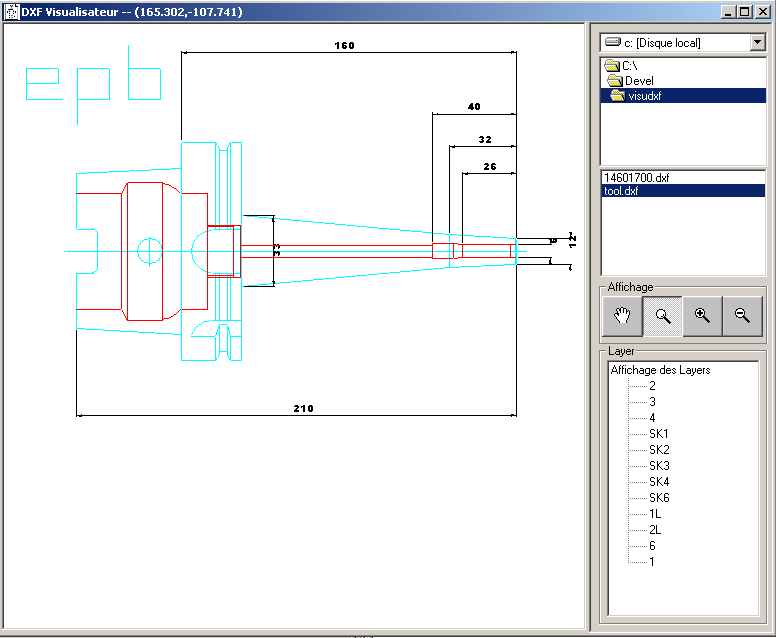 You can zoom in on part of the drawing or to move it. while Double-clicking on the drawing the software will center the Double.click drawing
  automatically:  To center the drawing with the screen.
While clicking in the tree of posting of the layers, you visualize to bush-hammer it corresponding or if you click on the root you will see all the layers.
The set knobs make it possible to handle the drawing
    :  Displacement    :  Zoom by a rectangle    :  Zoom more    :  Zoom less
---
Links
Documentation on standard DXF of autocad with formats DXF Autocad 13,14 2000,2002 and 2004
Link to the product Voloview Express train of Autocad